Being the principal subcontractor for all interior decorations on various home office and education projects has ensured we can work to strict deadlines, so we are positive we can meet your requirements efficiently and promptly. Our many satisfied customers prove our quality craft, and high standards result in the highest standard painting service. We have developed and maintained close working relationships with our clients, ensuring client satisfaction is at the forefront of our agenda.
Innovation and development are essential elements to meet future challenges, so to remain at the forefront of our industry, we work closely with our supply chain.
Why Do I need Painting And Decorating Services?
Having a presentable and professional commercial space is very important to satisfy the needs of your clients and customers. First impressions are essential, and you can guarantee that a prospective offer will notice the environment you let yourself work in. Poor decorating can scare off customers, so be sure to get the right first impression by making your commercial space a place to be proud of with clean and professional painting and decorating professionals. A professional painting and decorating service can guarantee clean edges, streak-free walls, and much more.
What Is Painting And Decorating?
Painting and decorating are the acts of painting a building, usually for cosmetic finishes. However, it improves the appearance of a building and protects it from damage by water, corrosion, insects, and mould. As a leading provider of high-quality painting and decorating services, we can apply paint, varnish, wallpaper, and other finishes to protect, maintain and elevate the appearance of your commercial property. Painting and decorating are not strictly limited to residential refurbishment but extend to the interior design and application of decorative and construction elements on commercial buildings, used by industries from educational offices to hospitality and industrial.
What Industries Benefit From Painting And Decorating Services?
The education sector benefits from regular painting and decorating services due to the wear and tear of students each year. The best time to enlist such decorating services is usually during school holidays when students are out of the building. This causes the least amount of disruption.
The Hotel and Leisure industries are like the education sector in that the annual wear and tear of customers can take its toll on buildings, along with the ever-changing trends in style and interior design. The hospitality industry benefits from regular decorating and painting services to look fresh, clean, and in keeping with the times to attract customers. The best times to have refurbishment work done are usually during the down periods, such as January, when there is a low demand for the venue.
What Products Do We Use For Painting And Decorating?
Leading paint manufacturers such as ICI Dulux and Crown Paints need the support and commitment of painters and decorators, such as ourselves, to test and offer feedback on new product formulations.
About Our Painting And Decorating Team
Without compromise, we take health and safety seriously, with all our highly skilled operatives being CSCS accredited and our contracts managers being SMSTS approved. This means you can rely on Intertech to provide a quality painting and decorating service.
Why Use Intertech Contracts For Your Painting And Decorating Needs?
Intertech Contracts is an ideal solution to a large-scale development project in the commercial sector. Our skilled team can efficiently prepare and service a room with the highest quality of painting and decorating techniques to match your property development deadlines. In addition, as a respectful company, we offer after-sales care and effective clean-up.
How Can Painters And Decorators Be Considerate To The Environment?
Intertech is conscious of the impact of our services on the environment and seeks to reduce the amount of waste produced. We also aim to use more environmentally friendly products. Our proactive support in this area has helped manufacturers introduce paint products that are more environmentally friendly. In particular, the VOC 2010 compliant range, which we have taken full advantage of. A VOC-compliant product must release the lowest possible toxins for their product, meaning fewer toxins are released into the air and less that could be breathed in. So, as well as offering first-class decoration works to all our clients, we are also helping to protect the environment whilst doing so.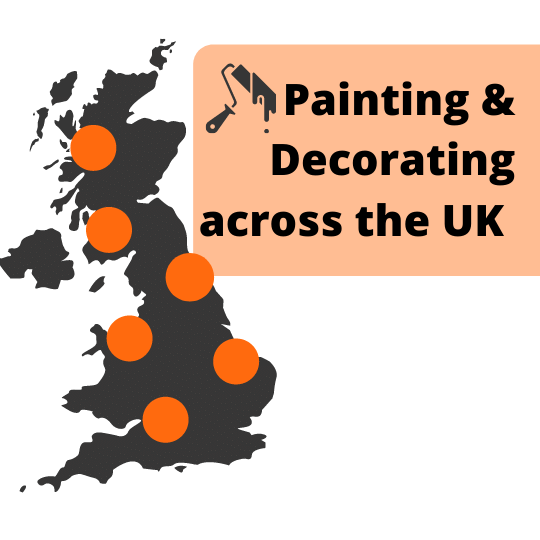 Get In Touch To Arrange Your Painting And Decorating Quote
Intertech Contracts is a premium contractor and services the whole of the UK but is based in Hull, East Riding of Yorkshire. As a highly skilled team of specialist individuals, we have worked on a wide range of clients providing various services such as painting and decorating dry lining, tape and jointing, joinery, and fire door safety services.
We provide several services, including:
If you have any requirements for either painting and decorating refurbishments or painting and decorating services in a commercial building, we would be happy to discuss your requirements. Don't hesitate to get in touch with us through our website link or directly by emailing Wayne Tompkins at [email protected] or on 01482 222498