What Is Commercial Joinery?
Joinery is the trade of joining wooden components, most specifically in the construction of a building. This can include elements such as stairs, window frames, doors, and sometimes furniture. There is a manner of ways in which wooden pieces can be joined together such as nailing, screwing, and gluing, but there are also advanced methods involving intricate joints that fit together without aid. Commercial joinery is specifically the use of joinery skills in a commercial environment.
Why Is Commercial Joinery Important?
Joinery must be done correctly by a skilled practitioner to ensure safety, especially if dealing with structural elements of a building. A commercial joiner can also produce unique furniture for your business, helping you to stand out and look good.
Our Commercial Joinery Processes
Our experienced and honest approach from design through to the installation of high-quality joinery has cemented our status as a leading contractor for a range of discerning clients across multiple sectors throughout the UK. We appreciate that every project is different with variable requirements throughout the whole process. Therefore, we have created and tailored our organisation to provide a flexible and adaptive service to our clients. This means we can provide the exact solution your business needs at almost any scale.
What Industries Benefit From Commercial Joinery?
Commercial joinery is becoming popular amongst office spaces, particularly with businesses that own their property or have a long-term lease. The trade of commercial joinery has adapted to cater to the commercial environment, used to create seamless office spaces that are inviting and reduce stress, and provide ample place for correct storage. Commercial joinery is best suited when paired into a full-service refit, as the tradesmen can work together seamlessly on the design to create the best possible outcome.
Why Use Intertech Contracts?
We have increasingly tendered and completed various joinery projects within the private and public sectors for both modular and traditional build clients. At Intertech Contracts, we're not just professional painters and decorators, we're also specialist joiners in Hull in the UK.
Intertech Contracts is a premium contractor and services the whole of the UK but is based in Hull, East Riding of Yorkshire. As a highly skilled team of specialist individuals, we have worked on a wide range of clients providing many different services such as painting and decorating dry lining, tape and jointing, joinery, and fire door safety services.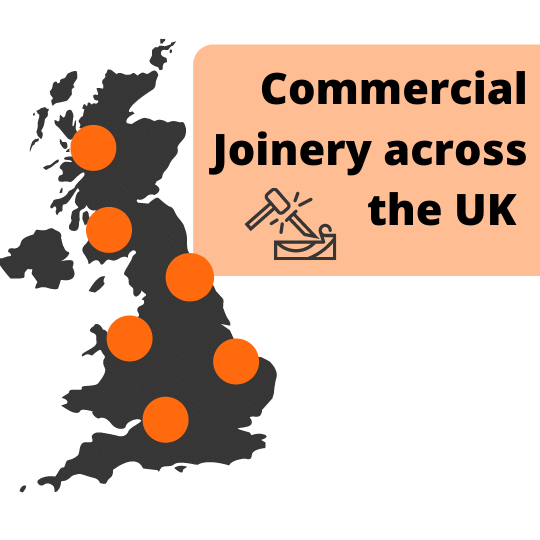 We provide several services including:
Get In Touch To Arrange Your Commercial Joinery Quote
If you have any requirements for either commercial joiners or joinery projects, we would be happy to discuss your requirements. Please contact us through our website link or directly by emailing Wayne Tompkins at [email protected] or on 01482 222498