Fire door maintenance is vital to protect people and property. Regular inspections address any wear and tear to fire doors over time, ensuring fire door safety.
Fire doors are designed to contain fire and smoke in the room they originated in. This prevents the fire from spreading, providing people with precious time to escape safely and reducing damage to the building.
What are Fire Doors?
Fire doors are thicker than regular doors and are built with a non-flammable core. The frame should also be made from a certified material, and the gap between the frame and door should be no more than 2-3mm. Gaps are fitted with intumescent seals, which expand when exposed to a fire's heat.
Different fire doors can withstand a fire for varying times depending on the make of the door. Most commonly, 30 or 60 minutes. This should be clearly labelled on the door.
Where are Fire Doors used?
Fire doors should be installed where they can contain the spread of a fire and protect fire escape routes. Stairwells should have doors fitted as they are a primary escape route. A fire assessment of your property should highlight where fire doors should be installed.
Fire doors are legally required in all properties used for non-domestic purposes. Some domestic properties, such as multiple occupancy blocks of flats, flats 4.5m above ground level, or properties for rent, also require fire doors to be fitted.
Why are Fire Door checks essential?
Fire door inspections are essential for the safety of occupants and for reducing property damage. Fire doors work by containing a fire. People can safely leave the building using fire exit routes and call the fire service if a fire is contained. Containing the fire also minimises damage to the building as only the location the fire started in is impaired. Fire door checks ensure the door works correctly and can contain a fire.
Fire door checks are crucial not only for safety but for compliance. Fire door inspections are required to meet UK regulations.
British Standards and the Regulatory Reform (Fire Safety) Order 2005 (RRFSO) requires installing fire doors where appropriate. These regulations also include:
Duty to take general fire precautions.
Risk assessments are to be carried out.
Principles of prevention to be applied.
Fire safety arrangements are to be made.
Elimination or reduction of risks from dangerous substances must occur.
Fire-fighting and fire detection.
Emergency routes and exits.
Procedures for serious and imminent danger and danger areas.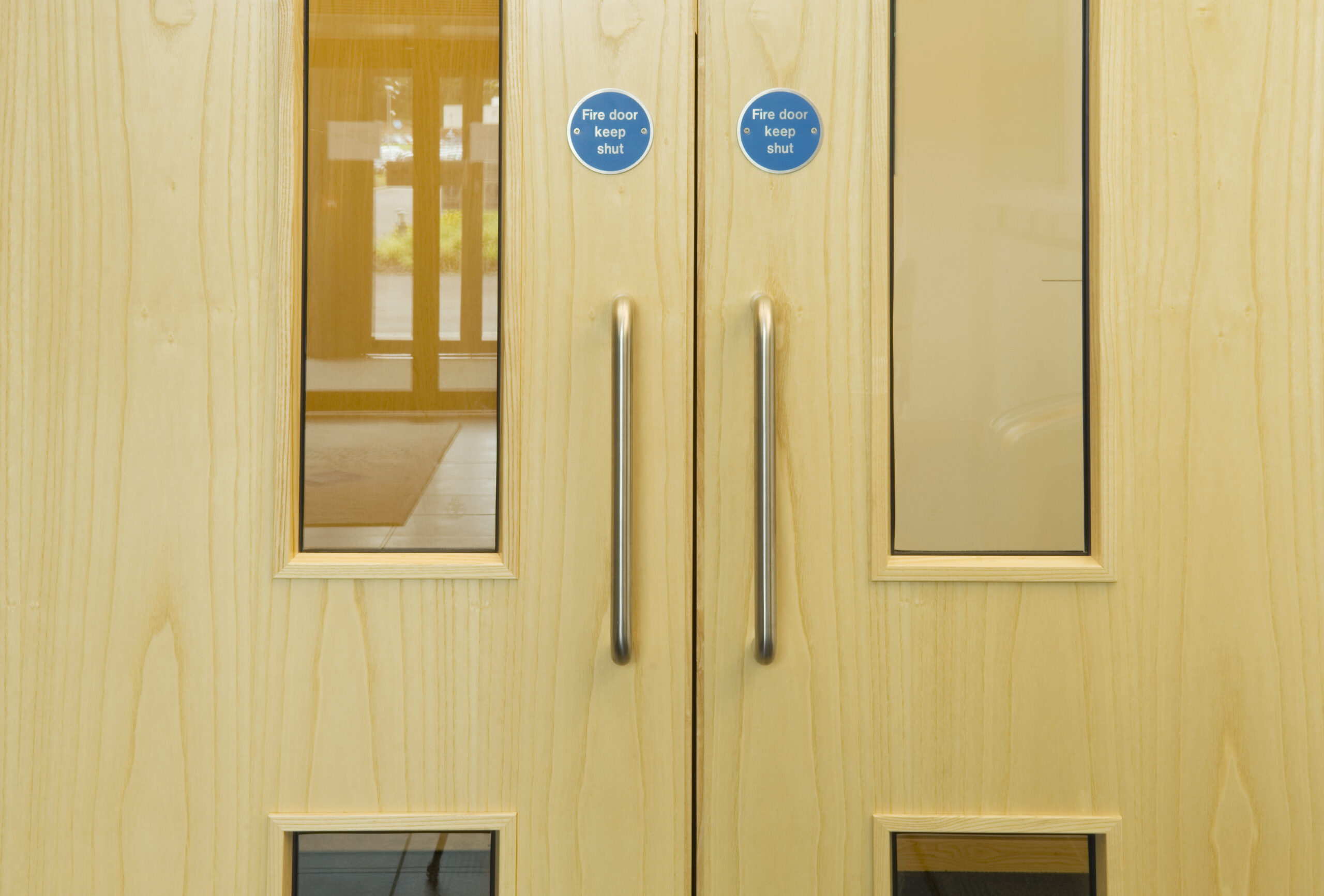 What is involved in Fire Door checks?
Fire door inspections are extensive to guarantee the safety and effectiveness of fire doors. What must be checked:
Certification: All fire doors must be certified. This is checked by looking for a label or plug on the top or side of the door.
Fully closes: If the door is fitted with a self-closing device, it must close fully without sticking to the floor, jamming on the latch or seal, and slamming too hard. The door must be checked by fully opening the door and allowing it to close, and also by opening the door by around 5cm and allowing it to close.
Gaps: Gaps should be 2-3mm. This must be measured.
Frame: Door frames must be damage free and firmly attached to the wall.
Seals: Intumescent seals must be securely attached to the groove, fame, or door leaf. The seal must be continuous around the door and free from any damage.
Hinges: Fire doors require a minimum of three firmly fitted hinges. All screws must be unbroken and the correct size.
Hold-open devices: If keeping a fire door closed at all times is inconvenient, they must be fitted with appropriate safe and legal hold-open devices. These devices must be in good working condition and allow the door to close when the fire alarm is sounded. If any fire doors are held open with wedges, they must be removed. Fire doors can not work correctly if kept open using wedges.
Latch: If a latch is fitted, the latch and handle should open smoothly. The latch should also hold the door in place without rattling.
Wear-and-tear: If fire doors are damaged, this can reduce their effectiveness. Check for any wear and tear. The glass must not be cracked if the fire door has a window.
Location: Different fire doors have different ratings. Each fire door must have the correct rating for its location.
How often should your Fire Doors be checked?
Government guidance requires that fire doors are checked regularly. A general rule is to check your fire doors at least every six months. This will allow any wear-and-tear, which may impact the functioning of the fire door, to be detected early and resolved.
Who is responsible for Fire Door checks?
Building owners are responsible for ensuring that fire doors are checked regularly. Fire doors must be installed, inspected and maintained by qualified professionals.
When arranging a fire door inspection, it is essential to check your provider's experience and qualifications. Here are some accreditations to look out for:
The Fire Door Inspection Scheme (FDIS) is a recognised qualification that ensures fire door inspectors' competency.
BM TRADA is a UKAS accredited certification body providing independent third-party certification fire services for manufacturing, installing and maintaining fire doors.
Fire Protection Association offers a level three train course and award in fire inspection.
Intertech Contracts: Fire Door experts
Intertech Contracts are leading installers of fire doors and are accredited by the BM TRADA Q-Mark fire door installation scheme.
We have over 30 years of experience, are based in Hull and East Yorkshire, and provide fire door installation across the UK.
If you have a new build or are refurbishing a property needing fire doors, contact our friendly team today.